Photographing Process
Your Professional Photo Session
Paul: "I shoot with the latest digital camera and lighting. This provides you with high quality digital files. My workflow is as follows: I shoot tethered to a computer allowing us to see the images as we are shooting. There are no parameters as to how many captures I take per person.
Creating an Effective Portrait
on location (search if necessary) or in studio
contemporary or traditional
use of image determines design of the shot
considerations about the shoot: makeup, change of clothes
head shot, full length, etc.
"We have worked with many photographers over the past 20 years and none of them come close to Paul; he has incredible skill and the ability to make homeowners (and models) very comfortable during shoots. We now use Paul Markert exclusively for all company photos and consider him an indispensible part of our business—we couldn't do our work without him. We recommend him with the highest praise."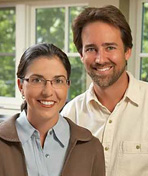 - Rocky and Gigi DiGiacomo, DiGiacomo Homes & Renovation, Inc., Minnetonka, MN 55305